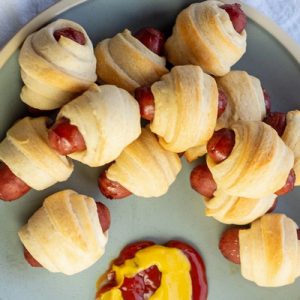 Crescent Roll Little Smokies
You may be more familiar with crescent roll little smokies as the 'mini version' of pig in a blanket. They are popular in any events or gatherings. They are even likable as game night snacks! As appetizer, they are super easy to make. The fact that they have different dipping sauces is another reason why you should try making one.
Ingredients
48

lil

smokies sausages.

Some people may know it as cocktail sausages. This recipe requires original lil smokies, but it is also great with cheddar lil smokies.

2

canisters

crescent rolls.

These rolls would be wrapped around the sausages and then baked. The end result should be golden and fluffy.

Condiment.

This is basically optional. If you want the classic one, go with mustard and ketchup. However, you are free to use anything you like. Ranch dressing (or Texas ketchup) can be a good option. Why not experiment with your own favorite sauce?
Instructions
Preheat the oven up to 375 degrees Fahrenheit or around 190 degrees Celsius

While doing so, open and then unroll the crescent rolls. There should be 8 triangles of the (shaped) dough pieces. Cut each of the triangle to three strips. It means that you should have a total 24 (dough) pieces for each can.

Place the lil smokie within the widest end of the triangle and then roll, heading to the opposite end. Place it on a tray that has been covered with a baking sheet. Bake at 375 degrees Fahrenheit for 12 minutes. 15 minutes should be the longest. Or you can wait until they become golden brown and then remove them.

After removing them (from the oven), let them cool a bit and then enjoy them with your favorite dressing or ketchup.
Notes
Extra Tips
Although this pig in a blanket treat is great when consumed as it is, adding up extra sauce or dipping would only add up the tastiness. Some of the most popular pigs in a blanket dipping sauce include sweet chili, tangy barbecue, spicy mustard, and honey Dijon.
You can even mix up mayonnaise and sour cream (each is coming in half a cup) and then add up 3 to 4 tablespoons Dijon mustard. As other alternatives, spicy (whole) grain mustard or whole grain type can be used if you don't have Dijon mustard. Mix them up until it is completely smooth.
Conclusion
As you can see, fixing up this recipe isn't costly or complicated. Start making your own version of crescent roll little smokies and see how you like it.