Aside from heavy foods, sometimes cookies are perfect treats too such as a Hamentashen recipe B. This recipe was originated from Ashkenazi Jewish communities associated with Purim holiday in the Jewish culture. Hamentashen or Hamantash for short is a pastry or filled pocket cookie. It is generally recognizable for its shape, which is triangular. A Hamentashen can be filled with various fillings such as prunes, date, apple, chocolate, cheese, poppy seed as the original most traditional variety, etc. These cookies vary from soft doughy casings to hard pastry ones. The triangular shape is the result of folding in sides of a circular-piece dough, and then a filling is placed in center.
Hamentashen recipe B is a cookie worth trying if not yet familiar with it. This recipe is rarely known due to its strong traditional roots for Jews and the long history behind it. If you're curious of Hamentashen potentials, there's always a chance to taste them differently based on what filling is used. This recipe takes about 45 minutes long to be ready, and it yields an amount of 60 cookies. Plenty of ingredients will be required to bake Hamentashen. Since it's on an intermediate level, be prepared for challenges.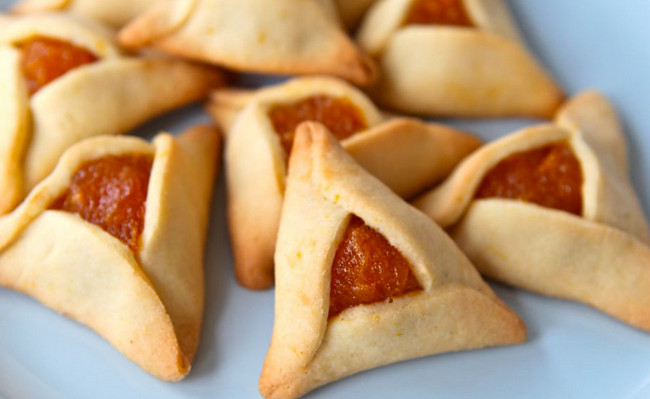 Ingredients:
2 ½ cups of flour
½ cup of sugar
½ cup of vegetable oil
1 egg, beaten lightly
1 teaspoon of baking powder
¼ teaspoon of kosher salt
Orange juice or water
Poppy seed filling, or to taste (chocolate, caramel, nut, raisins, etc.)
Cooking Instructions:
Prepare a medium bowl; stir salt, flour, and baking powder together. Set aside.
Use a large bowl to whisk egg, sugar, orange juice, and vegetable oil until smoothened.
Stir in flour mixture gradually until it forms sticky dough.
Wrap it with a plastic wrap, use a disk to flatten it in, chill overnight.
Soon as it's ready to bake, set oven to 375 degrees Fahrenheit and preheat it.
Take each one quarter of the Hamentashen recipe B dough once at a time; roll into a bit less than ¼-inch thick of lightly floured surface.
Cut circles or other shapes with a cookie cutter 2 ½ to 3 inches.
Place a nip of filling into the center (1 teaspoon each cookie), pinch a side up.
Turn and pinch the other two sides to make the triangular shape.
Extract cookies on a parchment paper using a cookie sheet. Brush with beaten egg to sheen, and then bake until properly browned (approximately 10-15 minutes).
Keep in an airtight container, consume only within 3-4 days.
With over 60 cookies to serve, make sure to share them with closest people and have a taste together. When following the instructions properly, result should be as expected. It never hurt to tweak the recipe a bit and add other ingredients that might improve the cookie's taste or look. On a Purim holiday, baking this recipe would be a great idea to celebrate it. Try this Hamentashen recipe B for a change of taste.