Long john silver's fish batter recipe is good for you who confused preparing a family's dinner tonight. Take it as a challenge as you try to cook something new for the dinner. Aside of chicken and beef, fish would be a very healthy meal. Fish contains high quality protein, omega 3, and vitamins. Because of its low fat, eating it at least two times a week is highly recommended for you who are on healthy diet as well. Cooking fish does not take much time. Moreover, it is very easy to make.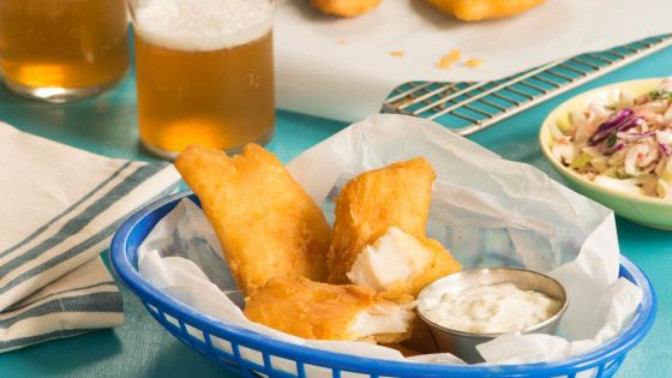 Ingredients:
8 fish fillets
½ teaspoon salt
½ teaspoon baking powder
½ teaspoon baking soda
½ teaspoon pepper or black pepper
½ teaspoon garlic powder
1 ½  cups flour
4 tablespoons cornstarch
1 ½ cups water
vegetable oil for frying (add more for deep frying)
Cooking Instructions:
Dry ingredients: put salt, baking powder, baking soda, pepper or black pepper, garlic powder, flour, and cornstarch into a bowl and mix them well.
Add water into dry ingredients and stir them until well mixed.
Prepare a pan or pot or fryer, and pour the vegetable oil.
Wait the vegetable oil until it is turning hot. Next, drop the fish fillet into the batter. After being coated perfectly, then drop it into the hot vegetable oil one by one, or more, depending on the pan, pot, or fryer size.
Fry the fish for 2 – 3 minutes until the color changes in golden brown.
Lift and drain the fish, put on the plate, and serve.
As alternative to process the fish, you can use cold water for the long john silver's fish batter recipe to make it crispier. Besides, you should fry it deep, so it will be crunchy as well. If you want the marinade to seep, you can smear the salt, pepper, and garlic powder on the whole fish fillet's surface. Next, put it in the refrigerator about an hour.
In addition, instead of making one batter, you can also make two: dry and mixed batter. Dry batter consists of dry ingredients only, meanwhile mixed batter is dry ingredients mixed with water. How to cook this long john silver's fish batter recipe is almost the same. First, you can dip the fish fillets into mixed batter, and then put them into dry batter. Moreover, the last step is frying.
Well, the fried fish batter is better eaten with chips and tartar sauce. Making chips is simple. All you need is potatoes, salt, and olive oil. Slice the potatoes in thin pieces, then fry them in the deep hot oil, and sprinkle the salt on it. You can add oregano as well. Meanwhile for the tartar sauce, just mix the mayonnaise, sweet pickle relish, a bit of lemon juice, minced onion, salt, and pepper. Before serving, the sauce is better to be kept in the refrigerator for 1 hour. Along with two additional dishes, your long john silver's fish batter recipe is completely perfect now.