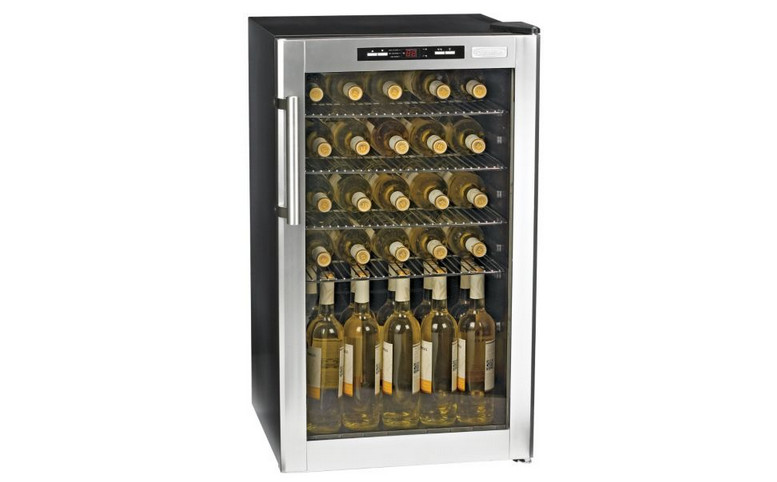 Cuisinart 3.5 Cu Ft Beverage Cooler is a beverage refrigerator and storage for your beloved wines. Cuisinart is famous for their trendy piece of equipment for specifically for home kitchen. They have been increasing their product selections with thermoelectric beverage storage designed to be independently placed on your kitchen countertop. Based on the capacity of the beverage cooler storage, this one can take up to 31 bottles.
Cuisinart 3.5 Cu Ft Beverage Cooler Specification
Cuisinart has used innovative technology of thermoelectric in the refrigeration system which acts as superconductor to operate the cooling method. This method is advantageous because it requires not many moving parts such as compressor to minimize breaking down. By applying this technology in a small refrigerator or beverage cooler, the best temperature of surrounding environment is below 70°F (21°C).
The Cuisinart 3.5 Cu Ft Beverage Cooler has one temperature zone. This freestanding model is built with ventilations at the backside. It has legs for adjusting the height level as you desire. The front side of its door is made of tempered glass with towel bar handle attached. There are four wire shelves that can be accustomed. Those shelves are made of chrome-plated wires that can be pulled out and typical shape of 750 ml wine bottles can be put in there. The overall unit measurement is 19-1/2 W x 21-3/4 D x 33-1/2″ H (50 x 55 x 85 cm).
Its cooling temperature ranges from 39- 68°F (4 – 20 °C). To control the temperature to your desire, there is a button to set it up or down. In the model you will find eight preset temperature for the convenience of temperature adjustment. When you use the cooler for the first time, you will notice that it has already been set to Mode 1 by default. The default temperature is set to 7°C (45°F). However, you can press the preset button and choose from Mode 1 to 8 to select the one you want. After you selected the mode, the number will light up and blink for a few seconds.
If you want to manually setting the temperature instead, simply press the button for manual set and then use the (+) and (-) button for adjustment. Once you have reached to the desired temperature, press the manual set button to finish. You will see the temperature of the chosen mode through the blue LED display. The Cuisinart 3.5 Cu Ft Beverage Cooler display will blink until it reaches the selected temperature. The LED display can be set to show temperature in °F and °C.
You may expect the model to present a 3–year warranty from the Cuisinart. With this in mind, you would not need to worry that any Cuisinart products come with quality. Choose which model is right for your beverage storage needs. The manufacturer is introducing some different model with different storage capacity. But maybe you just need to buy the one which can hold up a considerable amount of wine bottles. For that reason, the Cuisinart 3.5 Cu Ft Beverage Cooler is a good choice.